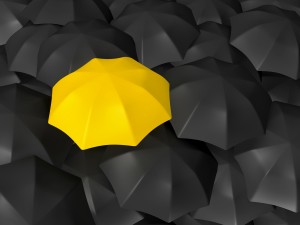 There are lots of ways to stand out in the candidate's mind and the sooner we start those things, the better our chances of winning over the competition. This article has some very good tips on how we as recruiters can increase the odds the candidate will choose us over any competing offers.
Here is one key point. It is well stated, but doesn't clearly say you will want to have this discussion at the very beginning of your process.
Listen to What the Candidate Wants

It's easy to assume you know what will make a candidate interested in the position and ultimately accept it. But do you actually know? How often do you ask questions about what is important to them? When they mentioned that they needed more detail about the benefits package, did you ask what was most important to them or did you simply launch into a list of all your benefits? Listen, listen, listen.

Ask your candidate to create a wish list for their next role. Get them to talk through it right there in front of you and to write it all down.

Ask them to think about everything from what type of manager they want to work for; what hours they want to work; whether they may want any more flexible working arrangements; what additional training they may be expecting etc.
Often I hear recruiters spending lots of time talking about the company, culture, benefits, whatever. What would be better? To be asking more questions, and of course listening.
I'v found it very useful to ask candidates what is attractive about our opportunity. That can give you insight into their hot buttons that can be important if you are in negotiations down the road. So you will hear things like what is missing in their current position, what frustrates them in their current company, what they like about your role, career aspirations, etc.
I also like to ask what is going on in their current situation such that they are willing to talk to me about a new role. I recommend you never ask "WHY are you looking to leave?" Aside from the fact it is often perceived as an insulting question, especially if they are passive and you sourced them, I can guarantee you won't get the kind of useful information as when you use a different approach.
Ask also what is happening in their search life. Are they actively interviewing, close to an offer, etc?
Ask them to talk about the manager who had the biggest impact on them and their career. What kind of environment excites them? What kinds of people do they most love to work with?
I'm sure you can come up with others that will give you insights into what is important to the candidate.
The value of asking and listening is that you hear the words the candidate is using. Take them down. Nothing is more powerful in negotiations than to hear their own words about what is important to them.
This article also talks about things that are often outside of our control as corporate recruiters.
So in addition to having this critical conversation with candidates from the beginning of the process, you may want to discuss one or two of the other points in the article with your hiring manager. It helps them understand that as recruiters we don't always have control of all the pieces. So you and the hiring manager can have a good conversation about how to address the important points to increase the odds that the hiring manager will land the candidate they really want. NOTE: I say it just like that so they recognize the benefit to them of what we're talking about.
This conversation can also help with hiring managers who believe your company is the cutest baby on the block so "Of course everyone will want to work for us."
I hope this helps you land all those in-demand candidates. Let me know what other questions you ask.
Read the rest of the article here: http://recruitloop.com/blog/top-tactics-to-close-candidates-considering-other-offers/
Sign up in the column at the right to get more tips, hints and strategies to get more of those desirable candidates, close searches faster and have happier hiring managers.
Let's talk about how you can be sure that drugs you buy through a mail-order drugstore are secure. Fortunately, there are online pharmacy where you can get remedies smoothly. A prevalent form of sexual malfunction among men is the erectile malfunction. Below are all defense tips about "how to buy viagra ". What is the most substantial information you have to study about "how to buy viagra online "? Divers drugstores describe it as "viagra for sale". Some men who drink excessively like amphetamines find it baffling to maintain an erection and turn to recipe remedies for a temporary solution. Causes of erectile disfunction include diseases affecting blood flow, such as hardening of the arteries. Chronic illness, several medicaments, and a state called Peyronie's disease can also cause erectile dysfunction. Never take more than the prescribed dose of Viagra. If you surmise that someone might have taken an overdose of this medicine, go to the emergency department of your local hospital at once.