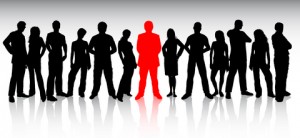 Interesting article sharing some of Steve Jobs' wisdom about hiring as a basic, critical strategy to build a successful business. You'll also be delighted to read his conclusion after years of hiring that:
"hiring was the most important thing he did"and
"Recruiting is hard."

One of the suggestions may be something you can help your hiring manager do if you would like to see them consider higher performance candidates:
Take a minute and look at the people around you. Are they A-players? Or are they B and C-players? A-players are motivated, engaged and creative. They are performance-driven and have high expectations for themselves and for others. B and C-players, on the other hand, often do just enough to get by and to be paid for it.
This analysis/conversation is perfect to be woven into your launch meeting at the beginning of a new search. It may be something your hiring manager hasn't had the time to even think about.
For more of Steve Jobs' thoughts on how to hire the best, read the article here: http://recruitloop.com/blog/steve-jobs-top-hiring-tip-hire-the-best/
My only caution about reading this article is that there are places that represent what drives me crazy. There is a lot of "should" but no "here's how exactly to do that" here.
For example, this is certainly a great perspective,
Besides the action steps for effective hiring, a good recruitment process is also about evaluating and testing candidates to make sure that you hire the best person for the job. And the key to evaluating candidates is choosing the best interview questions to ask.

But when I refer to "the best interview questions to ask", I don't mean using generic interview questions either. You know the ones I'm talking about – they sound a bit like, "Where do you see yourself in five years?"

In contrast, the best interview questions give you a comprehensive insight into the person behind the résume. They reveal the candidate's values; personality; strengths; weaknesses; knowledge; past behaviours; competencies and skills.

 
And you can safely bet anything at all that there isn't one hint about how to get "the best interview questions" much less how to get your hiring manager to ask them!
For one example of questions that are going to get you really good information and insight into whether you have the right player, check out my post here.
For more strategies to build influence with your hiring managers, check out my new book on Amazon (even Prime shipping): The Consultative Recruiter
Let's talk about how you can be sure that drugs you buy through a mail-order pharmacy are secure. Fortunately, there are online pharmacy where you can get remedies smoothly. A prevalent form of sexual dysfunction among men is the erectile dysfunction. Below are all defense tips about "how to buy viagra ". What is the most substantial data you have to study about "how to buy viagra online "? Divers drugstores describe it as "viagra for sale". Some men who drink excessively like amphetamines find it baffling to maintain an erection and turn to prescription remedies for a temporary solution. Causes of erectile disfunction switch on diseases affecting blood flow, such as hardening of the arteries. Chronic illness, several medicaments, and a state called Peyronie's disease can also cause erectile dysfunction. Never take more than the prescribed dose of Viagra. If you surmise that someone might have taken an overdose of this medicine, go to the emergency department of your local hospital at once.